PPIC Study Updates Findings On Fracking In California
The Public Policy Institute of California (PPIC) released a further report this week surveying Californian's perspectives on, and support for, hydraulic fracturing, or fracking, in the state. The report, entitled "Californians and the environment" (pdf), is PPIC's 13th annual survey on the environment. We reported on last year's report (pdf) here. The report includes findings on:
Climate change, including perceptions of global warming's onset and concerns about its possible impacts; preferences for AB 32 and views of the impact of state action on global warming on employment; views on ways government can regulate emissions, including setting stricter emissions limits on power plants; and preferences for how to spend cap-and-trade revenues. It also measures attitudes toward energy policy, including fuel economy standards, oil drilling, nuclear plants, renewable energy, the Keystone XL pipeline, and fracking.
Regarding fracking, PPIC surveyed Californians' responses to two specific questions:
First, "do you favor or oppose increased use of fracking, a drilling method that uses high-pressure water and chemicals to extract oil and natural gas from underground rock formations?
Second, "[a]s you may know, fracking is currently taking place in California. Do you favor or oppose stricter state regulation of fracking in California?
On the first question, PPIC reported the following responses from the 2,103 Californians surveyed:

Comparing a comparable question in last year's survey ("do you favor or oppose fracking in California?") reveals possible minor changes in attitudes about fracking among Californians. The percentage favoring fracking decreased from 42% in 2012 to 35% in 2013, while those opposed increased from 46% in 2012 to 51% in 2013. Factoring in party affiliation, the findings show that in 2012, 65% of Democrats opposed the practice, with only 22% in favor. In 2013, those numbers shifted to 60% opposed and 30% in favor. Among Republicans, the numbers shifted from 64% in favor and 22% opposed in 2012, to 49% in favor and 35% opposed in 2013. Of course, these differences may be explained by the subtle, but important, distinction in the phrasing of the question. In 2012, the question was simply whether the respondent favored or opposed fracking in California. In 2013, the question focused more narrowly on the increased use of fracking in the state. Thus, comparing the results from year-to-year may lead to inaccurate conclusions. It would be interesting to see what the results would have have been had PPIC asked the identical question in both surveys.
On the second question, the survey found that 50% of California favor increased regulation of fracking, 36% oppose, and 13% do not know, as shown in the following pie chart: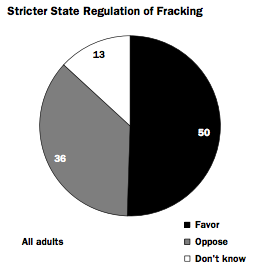 Regulation of fracking in California appears to be a certainty, with formal rulemaking expected to begin in the coming weeks. See our recent analysis of the status of California's rulemaking efforts here.
The PPIC report is not limited to fracking issues. Among other environmental issues, the report summarizes its findings on climate change and energy policy as follows:
Most Californians say the effects of global warming have already begun. The wide partisan divide over whether steps should be taken right away to counter these effects has narrowed slightly since last July.
A majority are very concerned about more severe wildfires as a result of global warming; 49 percent are very concerned about more severe droughts.
Two in three Californians continue to favor the goal of AB 32—to reduce greenhouse gas emissions to 1990 levels by 2020.
Most Californians say it is at least somewhat important for the state to both reduce global warming and plan for its effects. Strong majorities favor several measures to reduce greenhouse gases, including setting stricter emissions limits on power plants and requiring oil companies to produce transportation fuels with lower emissions.
Forty-five percent are aware of the state's cap-and-trade program, similar to last July. Strong majorities favor spending cap-and-trade revenues on transportation, transit, and—to a lesser degree—housing-related projects.
Opposition to off-shore oil drilling is up slightly since last year, and most Californians remain opposed to building more nuclear plants.
There continues to be strong support for renewable energy, although support for the state's renewable goal declines if it means higher electricity bills.
For more information regarding California fracking issues, please contact Eric Adair. Follow Eric on Twitter:
Related stories:
Tagged → Fracking, Hydraulic fracturing, PPIC, Public Policy Institute of California